Working from home has become more relevant as the pandemic raged on. With social distancing rules, workers are forced to leave the enclosed office spaces and stay home to avoid the virus. Work from home is comfortable and convenient as you don't have to dress up, commute, or deal with toxic coworkers. However, you have to proactively be watchful of your lifestyle to succumb to laziness or be sedentary.
The couch behind you may be waving. You may be tempted to spend lots of time in bed with your laptop. As you spend lots of time indoors, you may miss catching natural light, some fresh air outside, or the relaxing greenery that you usually enjoy on your way home from the office.
It's time to change your lifestyle. Here are some effective home workouts to keep you fit and healthy while enjoying your work-from-home routine:
Timed Walks
Whether you are an experienced online grant writer, a telemarketer, or a software developer, timed walks are easy and are for everybody. Living in a one-room studio with limited space? All you have to do is walk or run in whatever space is available for a set amount of time. You may think it is funny to walk or run or jog in place but think of the health benefits it does give to you without taking too much time going outdoors. Start with a 20-30 minute session and aim to increase your endurance as the days go by.
Do at-home stretches or subscribe to an online yoga class.
All you need is a yoga mat for this kind of exercise. There are thousands of available yoga routines on streaming platforms or on websites that you can imitate. If you have been practicing yoga at the gym, this could be an opportunity to continue what you have started and add more moves. You can start with simple stretches that open up your chest, hips, lungs to relax your muscles and improve circulation after a long time in front of the computer. You can also check out the pre-recorded online yoga classes to diversify your routine.
Pause a grueling payroll task or a long article and reset your system with some handy yoga stretches. Stay on your seat and do a couple of gentle neck rolls. While in front of your computer, give your back a break by doing a cat-cow stretch. Put your hands on your knees, arch your back, look up, round your spine, and then drop your head forward.
Sweat like crazy with a high-intensity workout.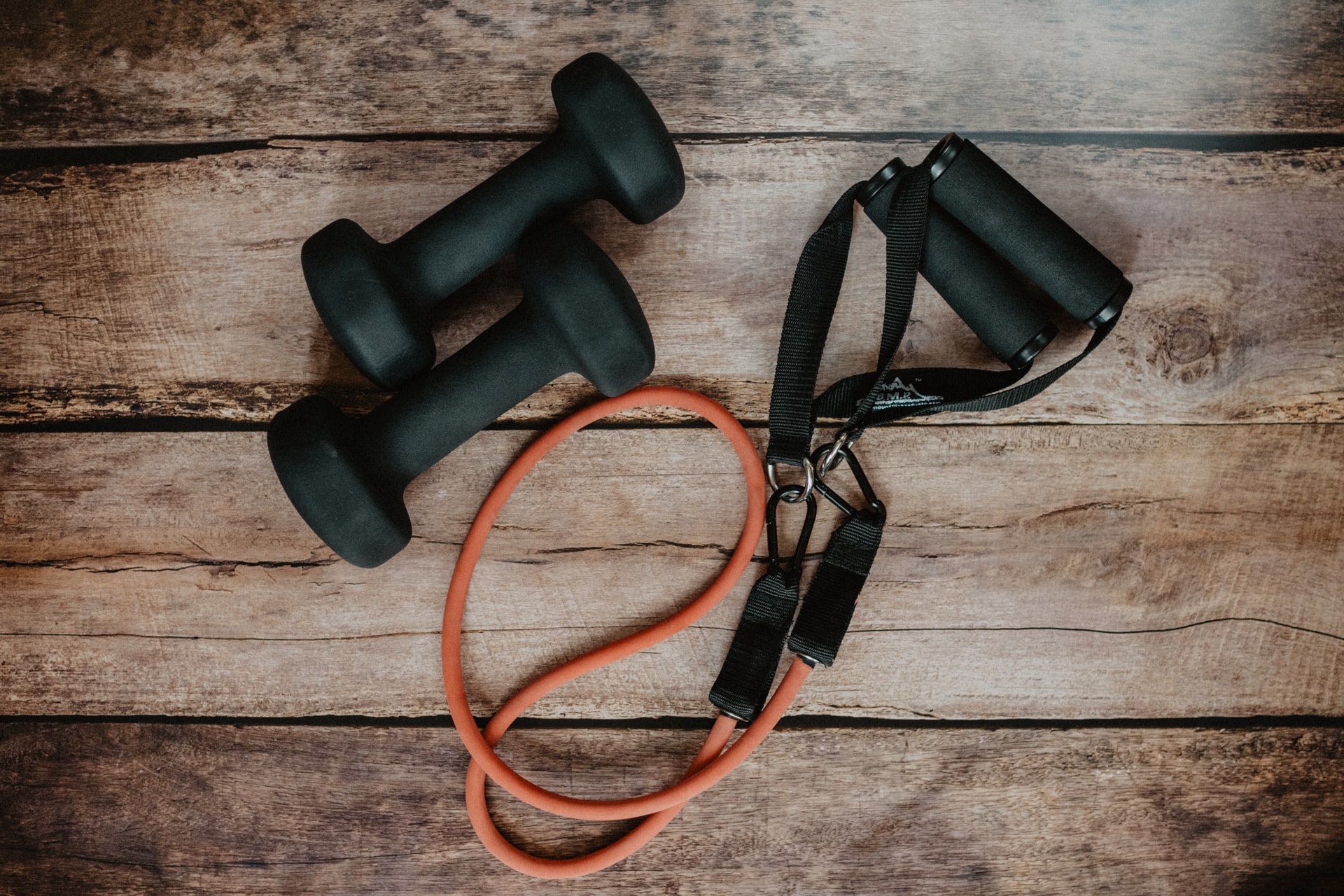 High-Intensity Interval Workout Training (HIIT) are workouts that need few or no equipment at all. If you are bored with your stretches, give your body a pleasant surprise with this routine, and you will find yourself sweating like crazy. There are lots of HIIT workout online, from 5 minutes to 30 minutes, for free. Remote workers have lauded this workout for giving them quick results when done regularly.
Set up an indoor obstacle course.
If you want to integrate play with your usual workout, an obstacle course would be a great idea. Transform some parts of your house into a playground by adding an indoor walk, jogging path, or a pull-up bar. Try moving some furniture and make them as obstacles that every member should surpass. This workout also benefits those with kids who would like to be the leader of the workout deciding the workout sequence or areas where the workout will start.
Have fun doing the stair heart-rate workout.
Take advantage of the stairs in the absence of a treadmill or a stationary bike. With a few repetitions in trekking up and down staircases, you can increase your heart rate and burn some calories. Does your house only have one staircase leading upstairs? That's not a problem. Try doing a few more repetitions climbing up and down. Meanwhile, you are in for a long run if your house has a flight of stairs down to a basement or connecting several floors!
You can ramp up your performance by adding periodic walks or jogs up and down the stairs. To determine your progress, consider wearing a heart-rate monitor while doing this workout to make sure you are hitting your target heart rates.
Working remotely can be fun and healthy. With lots of dedication and time management, you can change your sedentary lifestyle sitting in front of the computer into something more fun and active. Be creative in your exercises. Put on some music to push yourself to finish the routine. Don't forget to stay hydrated and eat healthily.
Exercise without a healthy diet is useless and will not yield good results. Also, consider taking long walks or jog outdoors in the early morning hours or late at night. Make sure you are wearing a mask and stay away from crowded areas. And don't forget to enjoy the moment. Life is short; enjoy it.