Running a business means being responsible for managing everything about it which includes your business premises. Nowadays, you need to keep your business premises secure to guarantee that all your products or important documents will remain safe even if you or your employees are not around. Even though paying for extra security measures can be costly, this is a necessary investment for entrepreneurs who have physical stores. After all, it is better to protect your business premises and spend money on security measures compared to regretting not taking precautions later on when problems arise.
One of the reasons why security should be prioritized is to prevent thefts from occurring. Most of the time, individuals with malicious intentions target business premises that do not have security measures installed. After all, it is very easy for these individuals to enter your business premises and take your things. A lot of entrepreneurs who failed to invest in security measures have regretted not securing their business premises.
After all, losing assets will cause major setbacks for a business. If you think that the cost of putting up security measures is overwhelming, just think about the prospect of losing everything important inside your business premises. This will motivate you to invest in security measures as soon as possible.
Nowadays, security measures have been improved and enhanced by innovations in technology. In the past, entrepreneurs used to coordinate with a specific security guard agency. At present, entrepreneurs can purchase innovative security devices so that they can monitor their business premises themselves regardless of where they are. Security systems nowadays have become more reliable and convenient for entrepreneurs. Therefore, if you want to invest in a security system that will keep your business premises secure, you can simply look for brands you trust and invest in innovative security devices.
Highlighted below are examples of innovative security devices enhanced by technology. This article will also present a description as to why these security devices are essential for entrepreneurs to keep their business premises safe. Read on to learn more about these innovative devices.
Installing CCTV Cameras
By default, most entrepreneurs would consider CCTV cameras to protect their business premises. After all, CCTV cameras capture all the activities that happen within or around a specific area. You can choose to install CCTV cameras both in the interior and exterior of one's business premises. This way, you can guarantee that you have everything covered.
CCTV cameras have been enhanced by technology because there are applications that people can download on their phones to link to their CCTV cameras. These applications allow people to see all the activities happening in the area in real-time. You just have to launch the application and see the CCTV footage live! This way, you will always be alert about all the things happening on your business premises.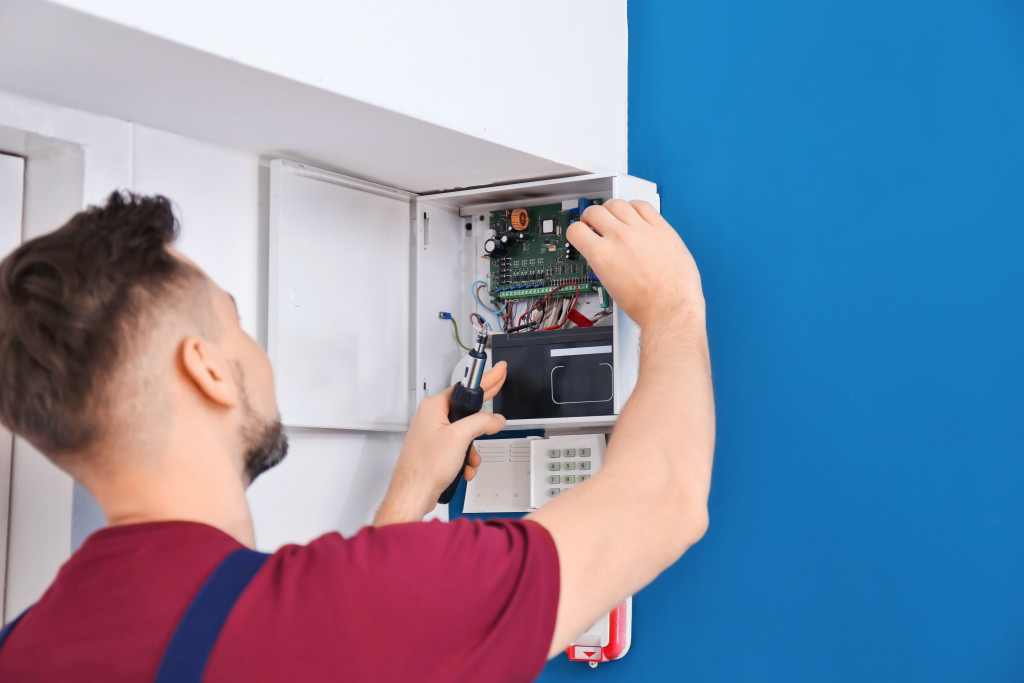 Motion Detectors
Motion detectors are installed to detect movement inside your business premises. Usually, motion detectors are enabled when you and your staff vacate your business premises during closing time. Store owners who wish to enter their business premises after motion detectors have been enabled will have to enter a security code to disable motion detectors.
Otherwise, alarms will go off and the authorities will be notified. Motion detectors are a good form of security for business premises because you will immediately be notified in case somebody breaks in. You can give your security code to trusted individuals only to make sure that your business premises will always be secured even if you are away.
Using ID Cards
Using ID cards is also a good way to secure your business premises. ID cards will allow employees and other staff to enter your business premises. Without ID cards, a person will not be able to enter your business premises. Therefore, ID cards are a good way of securing your business premises. You can also monitor the specific times when your employees and staff enter your business premises. With the help of CCTV footage, it is very easy for you to pinpoint culprits in case something goes missing or if your business premises are vandalized. Taking extra precautions is necessary for keeping your business premises safe.
You should always prioritize security because security measures will help keep your business premises safe. You need to invest in security measures because this is one sure way of guaranteeing that all your assets and important data will remain secure even if you are not around. Security measures are a wise investment even if they will be costly. After all, your assets are more important because they will help your business grow and thrive.